LATEST WALLPAPER

MOST POPULAR: x

RANDOM
Godlike
My videogame skills. The sort of thing that matters in life.


View - comment -(8-3-2018)
213 views | 0 comments
Xbox One

When the unveiling of the new Microsoft games' console caused so much anger among the now disenfranchised gamers, who felt their needs are not only not being met with their proposed update to the Xbox, but outright ignored, I felt an uncomfortable disagreement with the backlash, that made me feel old; I rather like the new direction the leading game platform is taking.
View - comment -(25-5-2013)
807 views | 0 comments
Tourist Trophy Blues
Riding imaginary bikes in the Playstation 2 game Tourist Trophy, because the sky keeps shitting on my roads -.- (snow).


View - comment -(25-2-2013)
1007 views | 1 comments
Jawa 350 Type 634.6
A video of my friends Jawa 350, as he bought and drove it home only to have it break down three times on the way.


View - comment -(15-2-2013)
710 views | 0 comments
Yamaha TDM 900 Video
This is my school project video, simulating multiple camera angles with only a single GoPro HD HERO 2.


View - comment -(15-2-2013)
952 views | 0 comments
Oct. 3rd, de_quake_dm3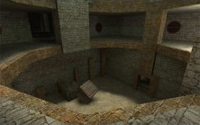 I've finally released this port of Quake 1's DM3; a map any Q1 player surely remembers. This map was actually finished quite a while ago, not long after CS:S was released, but I never thought it worthy of release. I'm glad I finally did it though, as I now play it regularly on my server with other old q1 players. On a similair note, my other map, fy_farcry, is seeing a bit of action as well. I've actually had people reffer me to this map, not knowing I was the one who made it. That's pretty cool.

Link to download

In other news, this year I started taking a different course at the university. My hopes are high.
View - comment -(16-4-2007)
1889 views | 0 comments
Arhiv - Next->